About Mason Trenching
Mason Trenching offers a diverse line-up of products and services. The list below gives a guideline of some of the most common products and services Mason Trenching offers. However, it should not be taken as complete list as Mason Trenching has the ability to work on many varied projects.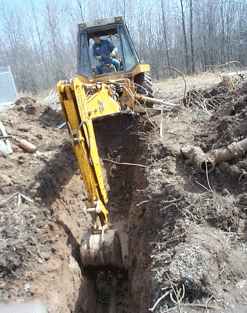 Mason Trenching Offers:
Sewer Main Work -
Installation, connection, repairs, building laterals, manholes, etc.
Water Main Work -
Sprinkler Mains, tapping, laterals, copper, ductile iron, hydrants, valves
Water &Sewer Lines -
Drilled, pushed, pulled, burst or open trenchwork.
General Plumbing -
Residential, commercial, industrial piping - PVC, CPVC, PEX, PE, copper, brass, cast iron, ductile iron, black iron, Victaulic Piping System, etc.
Bathrooms and Kitchens -
Mackenzie-Childs prize winning bathroom.
Excavating -
JCB backhoe with 4 wheel drive and extendahoe, Komatsu mini-excavator with blade and full rubber tracks, Komatsu excavator with the off-set knuckle boom option (gives ability to excavate along side a building foundation), blade and steel tracks with rubber pad inserts. Trench footings, building additions, utility work, etc.
Gabion Baskets & Retaining Walls -
This work involves retaining walls or embankments such as along creeks with gabion baskets. Retaining walls such as Redi-Rock International are our speciality. These are pre-engineered, pre-cast systems with limestone looking split faces, etc. They are massive blocks, averaging over 2,000 lbs. each, along with stairways, planters, etc. and are build to last a lifetime.
Horizontal Road Bores -
Augers & air missles for installing sewer, water, electric lines, etc. This allows piping to be installed under roads, parking lots, etc. without digging up the road surface.
Vertical Auger Drilling -
Stihl hand held gasoline augers, Backhoe mounted Danuser hydraulic Auger from 6" to up to 36" augers in stock.
Pipe Pushing &Pipe Bursting -
Our equipment can push or pull underground. We also have equipment for pipe bursting and dragging new pipe through existing sewer pipe creating a new sewer lining. Air operated Trojan pipe pushing machine. Hydraulic pipe pushing machine.
Takagi Tankless Water Heaters -
Factory certifed installer - multiple series systems.
State Hot Water Heaters -
Multiple series systems. Certified installer
Grundfos Hot Water Circulating System-
Tired of waiting for the hot water for your shower, etc. This system does not require a return line and yet hot water is delivered within seconds of turning the faucet on. Grundfus - the comfort system
Grundfos Water Pressure Pumps -
Low water pressure problems may be cured with these pumps in both residential and commercial projects. Very quiet and they turn on immediately upon demand increasing the water pressure. Constant pressure control.
Variable speed regulation.
Electronic control and communication.
Wind Turbines and Tower Erecting - Bergey Wind Turbines, Skystream, ReDriven
Concrete Demolition, Drilling, Core Boring - Electric and air operatored jackhammers, Backhoe mounted hydraulic jackhammers, electric and air operated rock drills, Bosch electric core boring machine, Stihl gasoline core boring machine up to 12" diameter
Hot Water Boilers - Utica Boilers, Teledyne-laars, Lochinvar, TriangleTube - multiple series systems. We can engineer your home, business, spa, hair salon, apartment building, hotel, etc. so that you will never run out of hot water!
Radiant Floor Heating Systems - Retrofits or new construction, under floor, thermocrete
Pumping Stations and Force Mains - Liberty Pumps, Zoeller, Gould Pumps, Hydromatic Pumps, Myers, etc. Complete pumping stations.
Custom Fabrication - Given a picture or drawing to copy or the problem of getting the object quickly with the quality desired - we have made molds and cast concrete catch basins to custom brass door knobs, slumped glass, hollow ware, welded stair & bridge railings, window grates, 3-D fiberglass wall panels, custom wood mouldings, Victorian detailed brackets, wood turnings, staircases, federal fireplace mantles, etc. Our machine, wood or welding shop (mig, tig, ac/dc, plasma cutter, oxygen- acetylene) can make special parts, art pieces, etc. when necessary. Trained at the School for American Craftsman at the Rochester Institute of Technology in hot glass blowing, casting, silversmithing, woodworking, blacksmithing, etc. we can make original designs or copy almost anything.
General Contracting - Custom building - residential, commericial or industrial projects.
Building Jacking and Foundation Repairs - Oak timbers, cribbing, house moving steel, H beams, custom house moving wheels, fifth wheels, lifting equipment, rigging, etc. We have all the equipment and knowledge to jack & fully support your building in order replace your failed foundation. In 2003, we broke the NYS record for the widest load in Monroe County on State roads. We relocated a Greek Revival building from Henrietta to Mendon. This structure had to be cut into five pieces. Our own crews designed, engineered and were responsible for all phases of this project including NYSDOT and Monroe County permitting, bonding, logistics, certifying that the project could even be done and where necessary, building of our own equipment to the complete the project without incident.
Septic Systems - Standard, raised/mound systems, stone fields, sewage treatment plants, etc. Monroe County listed installer. We also do systems in Livingston, Wayne and Ontario Counties
Sewage Treatment Plants - Upstate New York distributor for Clearstream Wastewater Systems, Inc . 500 to 1,000,000 gallons a day. These systems are easy to maintain & service. NSF approved - Class I ANSI/NSF 40
Automatic Home/Business Generators - Generac, Inc. whole or partial house units. Factory trained. 13 KW and 16 KW natural gas or propane units in stock with larger sizes and diesel fueled available. Being prepared against emergencies is the golden rule!
Sump Pumps and Water-Powered Back-up Sump Pumps